Here's the low down on what I've been using this month.
 

1. 

Estée Lauder New Advanced Night Repair Synchronized Eye Recovery Complex
I got a sample size of this Estee Lauder New Advanced Night Repair Synchronised Eye Recovery Complex as part of a gift with purchase some time ago. It's lasted really well and did a great job of fighting off the wrinkles and it feels luxurious.
"Inspired by groundbreaking DNA research, Estée Lauder revolutionizes eye repair so you'll see a reduction in the look of every key sign of ageing around eyes. Use this age-defying formula and help repair the appearance of past damage caused by every major environmental assault. Exclusive Chronolux™ Technology synchronizes to skin's needs to help support its optimal performance of its natural repair and protective processes. Your eye area looks radiant, more rested and revitalized" 
It costs £38.00. Buy now here.
2. L'Occitane Precious Eye Balm
Just had a sachet sample of  L'Occitane Precious Eye Balm as part of my Mother's Day treat. (Read more here.) It was enough to use for a couple of days and as with all of L'Occitane's products it made me feel pampered and special.
They say:
"The Precious Eye Balm by L'Occitane is a velvety, soft formula used to smooth, firm and visibly reduce dark circles and puffiness around the eyes. It contains organic immortelle, ivy and ruscus extracts."
It costs £39.00. Shop now here.
3. Clinique Liquid Facial Soap – Mild
I wouldn't normally go anywhere near soap and particularly not for my face. But I trust Clinique and when I got a sample of Clinique Liquid Facial Soap as part of a gift with purchase I decided to give it a go. It was an effective product and cleaned my face without leaving it feeling tight. It didn't wow me but I'd happily use it again.
They say:
All the benefits of Clinique's famous and dermatologist-developed facial soap in a liquid formula! The facial soap preps skin with the exfoliating action of Clinique's Clarifying Lotion. The convenient pump dispenses just the right amount of product for the entire face. 
It costs £15.50. Shop now here.
4. Champneys Spa Treatments Citrus Blush Hand Wash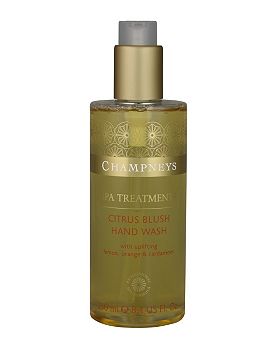 I wrote a little about this Champneys Spa Treatment Citrus Blush Handwash when I first bought it here. It's a fresh-smelling, moisturising product that I'd happily buy again.
They say:
"This gentle yet refreshing hand wash, from Champneys Citrus Blush range, leaves skin smooth and clean."
It costs £4.00 here.
5. Garnier Body Bodytonic Hydrating Lotion Firming
This Garnier Body Bodytonic Hydration Lotion Firming is a great-smelling lotion that really smooths and firms. That said it seemed to me that the effect was temporary and that it didn't really correct dry skin long-term and that it just sat on the top of the skin.
They say:
"Garnier Body Bodytonic Hydrating Lotion Firming leaves the skin feeling moisturised all day long, for visibly firmer skin. Its Citrus fragrance and non-greasy gel-crème texture has an immediate invigorating effect. Its incredibly fresh moisturising formula is enriched with seaweed extract and helps reinforce and firm the skin's surface. Also enriched with phyto-caffeine™, known for its stimulating properties. Each day skin feels firmer."
I'd happily use it again but it wouldn't necessarily be my first choice. It costs £5.65 here.


6. L'Occitane Néroli & Orchidée Body Milk
I got the 50ml size of this gorgeous Néroli & Orchidée Body Milk as part of a set for Mother's Day. You can read more about that here. The word milk is misleading because this is a rich creamy lotion that really nourishes and protects. I'm so sad that it's run out and I would definitely repurchase. I just love L'Occitane!
The only thing I should say is that it's highly scented. The Neroli and Orchid fragrance is amazing but is best worn with the Neroli & Orchid fragrance as it might be too powerful to layer with another scent.
They say:
"Envelop your skin with the tantalizing fragrance of our Néroli & Orchidée Body Milk, a lovely harmony of two precious white flowers. Perfect for daily use, this fresh body milk moisturises the skin, leaving it delicately fragranced. Made with neroli essence from the Mediterranean and white orchid absolute from Madagascar, it leaves behind a floral, fruity fragrance."
The 175ml size costs £16.00 here.
7. Viktor & Rolf 

Flower Bomb Body Lotion
I was lucky enough to receive some samples of this Viktor & Rolf Flower Bomb Body Lotion. The scent is heavenly and the lotion is rich and luxurious. I love everything about it.
They say:
"Viktor & Rolf Flower Bomb Body Lotion. This scented body lotion has a full-bodied, floral scent. Provides a profusion of flowers that has the power to make everything seem more positive. This fragrance contains top notes of tea and bergamot, middle notes of sambac jasmine, orchid, freesia, and rose, with a base note of patchouli."
It says on the pack that it's bomblicious – who am I to disagree? It costs £40.00 here.
 

8. Viktor & Rolf Flowerbomb Shower Gel
Same brand, same scent same look as the body lotion above. I used the Viktor & Rolf Flowerbomb Shower Gel sample in the bath and it produced a fair amount of bubbles and of course, smelled divine.
They say: – pretty much the same as for the body lotion! If you want this kind of luxury for your shower routine it'll cost you £35.00 here.
…and that was April for you.
This post contains affiliate links