This month I've used up so many amazing products. You may just want to try some of them yourself.
1. Viktor & Rolf Flowerbomb Eau de Parfum
First up for November it's the delicious Viktor & Rolf Flowerbomb Eau de Parfum. Sadly I didn't have the full size and this empty is just a small vial I found at the bottom of a goodie bag from way back. It's fair to say that it's my second favourite scent. My favourite is also from Viktor & Rolf and is firmly on my Christmas List – it's BonBon.
Anyway, back to Flowerbomb. They say, (and I have to agree):
"Like 1,000 flowers in a bottle, Flowerbomb Eau de Parfum is full-bodied and opulent. It explodes in a bouquet of sensations with its addictive floral notes which leave their trail, like a whirlwind that's distinctly couture. Key notes: centrifolia rose, Indian osmanthus, catleya orchid and sambac jasmine.
It's available here from £44.55 currently.
2. Vichy Lift Activ Serum 10 Eyes and Lashes
I'm really sad that this is finished. It's a really reliable and effective eye serum that strengthens lashes too. There is a full review here. It costs £21.25 here currently so snap it up!
3. OGX Anti-Breakage Keratin Oil Shampoo
Ever since I tried the amazing Phytoplage shampoo and conditioner. (see review here) I've been trying to find something as good or at last something that will come close to what it did for my hair. I really think that it's time to just pay up and buy some more because I haven't found anything comparable yet. So, I guess that was a bit of a spoiler for this review of this OGX Anti-Breakage Keratin Oil Shampoo. It feels really rich when it comes out of the bottle it smells good and appears to be quite promising as it's applied but after washing off it's effects were just ordinary. I mean, yes, my hair was clean but that was it. If you'd like to give it a try, then it currently costs £4.99 here.
4. Soap & Glory Mini Hand Food Hand Cream 50ml
This Soap & Glory Mini Hand Food Hand Cream is one of those products that bloggers rave about. I only came by it as I one a competition a while back and this was one of the three Soap & Glory products that made up the prize. I didn't use it for ages as I had, and always seem to have, more hand cream than I can shake a stick at. (Not sure why you would want to shake a stick at anything.)
When I tried it first, I wasn't sure about the smell. they say:
"Soap & Glory Hand Food Hand Cream is a super-silky gorgeously-scented non-greasy hydrating hand cream featuring fennel and lotus flower extracts, which leaves your hands super smooth."
I can't say that it smells gorgeous or that it smells of flowers it just smells like all the Soap & Gory products and I can't say that it's particularly attractive. But it isn't offensive and the thing is it's a really good, effective handcream and that's what's important, right!
If you'd like to give it a try, this mini size, which will last you quite some time costs just £2.50 here.
5. Boots Botanics Micellar 3 in 1 Cleansing Solution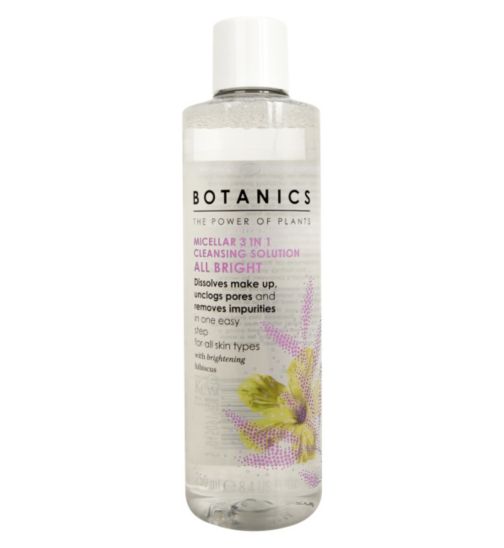 I've reviewed this Boots Botanics Micellar 3 in 1 Cleansing Solution here. It's become a sturdy standby for both myself and my daughter. It removes make-up thoroughly and gently. I've tried all kinds of different cleansers recently, some of them costing huge amounts of money, but this does quietly does the job. It's currently on offer here at just £2.99!
6. dr.organic Bioactive Skincare Organic Moroccan Argan Oil Restorative Treatment Conditioner
I've reviewed this previously here. It's an effective conditioner but I wouldn't say that it's a treatment conditioner. I've used it all up because it does a competent job but it's not something that I'd repurchase. If you'd like to try it currently costs £7.99 here.
7. Vichy Aqualia Thermal Fortifying & Soothing 24hr Hydrating Care Serum
Finishing off this beauty has made me the most upset I've been about finishing a beauty products since my Dior mascara ran out. I used this Vichy Aqualia Thermal Fortifying & Soothing 24hr Hydrating Care Serum every morning from the first day I got it. It's so soothing, and calming and mist off all hydrating. I just love it!
I've reviewed it thoroughly here. And you can buy it – (you really must!) here for £16.15 currently.
8. ARK anti-ageing Skin Protector SPF30 Primer
I'm truly very sad that I've run out of this outstanding product. Don't get me wrong I know there are plenty of excellent primers out there. I have plenty of other brands in my back up stash but this was the one that made me feel really confident that my skin was looking great and protected me so well with its SPF30. I've reviewed it fully here. It's available priced £36.00 here
9. Sleek Eyebrow Stylist
This is my go to eyebrow liner. I think this is the second one I've used up. You can read the full review here. It costs just £5.99 here.
10. Colladeen Visage
I think it's fair to say that I haven't really given this food supplement the best trial that I could have. You're supposed to use them one a day. The contain high strength anthocyanidins, lutein & green tea extract.  They're supposed to protect the skin but I'm not really sure that me remembering to take them now and then really worked. Also, I'm not sure that even if I did take them regularly I would be able to measure the effect. Still, for those of you that understand the value of the ingredients better than I do you can find pout more here. They cost £18.95 for 60 tablets.
Have you tried any of these products? Are any of them your favourites? Do share in the comments box below.
Hazel
This post contains affiliate links. It contains a mixture of products that I've bought myself or been gifted. I wasn't paid to write this post and the opinons are my own.